Forthcomingevents



2019 events at the brewery coming soon. Please check back for details.

Our gardens and visitors centre are now closed until the Spring of 2019. Please check back soon for events and opening times for 2019.



Recentevents
ELGOOD'S THREE-DAY CHRISTMAS EVENT Wisbech Brewers Elgood & Sons Ltd are looking forward to welcoming beer lovers and shoppers over the course of three days of special events this year: FRIDAY 30TH NOVEMBER – FREE TASTINGS IN THE BREWERY SHOP From 9 am to 5 pm, the Brewery Shop on North Brink will be offering free tastings of

Hundreds of visitors enjoyed a bright, sunny day in the Elgood's Brewery Gardens on Sunday 2nd September. The Craft & Plant Show was a great success, as of course were our award winnings ales. We are already looking forward to next year! Beautiful weather greeted visitors at the 2018 Summer Plant & Craft show

Despite the overcast and slightly cool weather, nearly 400 people gathered in Elgood's Brewery Gardens to enjoy an afternoon of jazz organised by Dave & Sheila Dyer. Music was provided by the Peter Rudeforth Jazz Band who played a wonderful selection of classic numbers with some stunning solos from the band members.  In between sets

Sunday 5th August 2018 in Aid of National Garden Scheme. 11:30am until 4:30pm
ourNews
Straw Bear Festival 2018
Straw Bear Festival, Whittlesea 13th, 14th & 15th January 2017.
In Whittlesea it was the custom on the Tuesday following Plough Monday (the 1st Monday after Twelfth Night) to dress one of the confraternity of the plough in straw and call him a 'Straw Bear'.
The tradition was revived in the 1980's and this years' Straw Bear Festival promises to be a great occasion. To celebrate, Elgood's has produced our own  'Straw Beer' a light, golden ale, well hopped with a full refreshing flavour.
For more information on the Straw Bear Festival http://www.strawbear.org.uk/
Last Date for Christmas Deliveries.
LAST ORDER DATE FOR CHRISTMAS DELIVERIES
9.00am on Wednesday 20th December is the last date for online orders for delivery before Christmas.
Please note that any orders after this date will be delivered after Christmas.
Elgood's Beer Festival a Great Success
We are delighted to report a very successful Beer Festival this year.  More than 900 people attended over the three days of the festival.  Over 150 beers were available, offering everything from refreshing low-alcohol ales to stunning high ABV porters and stouts.
Entertainment was provided by old favourites Dr Busker and Bewildered as well as up and coming local band Animal Bar.  Local folk band The Rusty Relics played for the Saturday afternoon session and were very well received.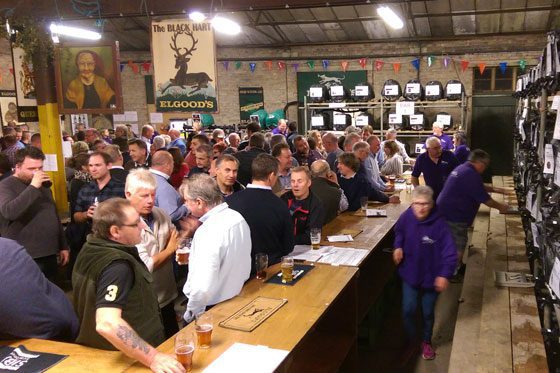 The festival, which is in its 7th year, is organised on a not-for-profit basis, using the beers entered for the SIBA East annual beer competition.  All money raised is donated to local charities.  This year £2,000 will be shared between Ravenswood Pet Rescue, Rare Brain Tumour Research, Norfolk Hospice Tapping House and the Ferry Project.
Next year's festival has already been booked for Thursday 20th to Saturday 22nd September 2018.