ELGOOD & SONS of WISBECH, CAMBRIDGESHIRE raised a glass of its popular seasonal ale BUZZ LIGHT BEER at the seat of Government recently,  after local MP STEVE BARCLAY chose  it as the week's guest ale in the Strangers' Bar, sited inside the House of Commons.
The beer, a 4% abv honey golden ale with Pale Ale Malt and English Sovereign hops, was enjoyed by the many MPs and other parliamentarians for whom the Strangers' Bar is effectively their 'local'.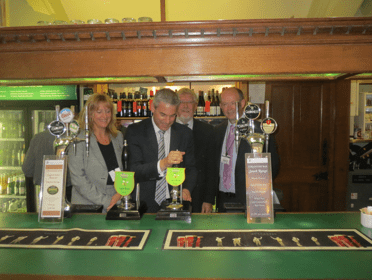 Elgood's MD, Belinda Sutton and Head Brewer Alan Pateman made the journey to London to share a pint with Steve Barclay who said, "It has been a pleasure to bring this fine beer from my constituency to Westminster and introduce my colleagues in Westminster to a taste of Wisbech.
"Elgood's is a real asset to our constituency, brewing wonderful craft beers, providing jobs for local people and supporting other businesses including the pubs that are at the heart of our local communities."
Belinda Sutton for Elgood's said, "We were delighted that Buzz Light Beer was selected for the Strangers' Bar and grateful to Steve and the team at the bar for making it happen. We're very proud of our beers and this was a great opportunity to spread the word about them beyond our usual area of trading."
She added, "We'd love to think that a pint of Buzz may have inspired some of our politicians to dream up ground-breaking new policies, but we are nonetheless delighted that so many MPs enjoyed drinking it."
Buzz Light Beer was made available in the Strangers' Bar as part of a scheme run by the All-Party Parliamentary Beer Group and the Society of Independent Brewers, to which Elgood's belongs.