latestevents
Saturday 2nd and Sunday 3rd December 2017 11am-4pm Free Brewery Tours Free Garden Entry Arts and Crafts Order your Christmas Beer (available in Polypins, Jugs & Bottles)

Elgood's Beer Festival 2017 21st September to 23rd September Thursday & Friday 5pm – 10.30pm Saturday 12pm – 10.30pm Live bands Doctor Busker Animal Bar Bewildered All tickets £4 All Beer £3 per pint TICKETS AVAILABLE NOW! Call 01945 583160 for bookings

Elgood's is holding it's latest Plant & Craft Fair on Sunday 3rd September 2017. With over 20 stalls, historic vehicles, Family history society and of course a fully licensed bar with refreshments there is something for everyone. Please pop along to see us. Entry £4, children under 12 free.

BREWERY GARDEN OPEN FOR CHARITY ELGOOD'S BREWERY GARDEN IN WISBECH WILL BE OPEN ON SUNDAY 6th AUGUST IN SUPPORT OF THE NATIONAL GARDENS SCHEME. Spend a peaceful day in our wonderful gardens. This family-owned garden, situated immediately behind Elgood's North Brink Brewery in Wisbech, covers approximately 4 acres. Featuring mature specimen trees about 250 years old, including oak,
News & EventsDetail
Elgood's Beer Festival a Great Success
We are delighted to report a very successful Beer Festival this year.  More than 900 people attended over the three days of the festival.  Over 150 beers were available, offering everything from refreshing low-alcohol ales to stunning high ABV porters and stouts.
Entertainment was provided by old favourites Dr Busker and Bewildered as well as up and coming local band Animal Bar.  Local folk band The Rusty Relics played for the Saturday afternoon session and were very well received.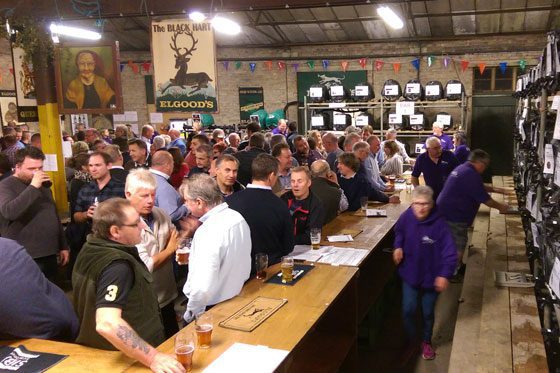 The festival, which is in its 7th year, is organised on a not-for-profit basis, using the beers entered for the SIBA East annual beer competition.  All money raised is donated to local charities.  This year £2,000 will be shared between Ravenswood Pet Rescue, Rare Brain Tumour Research, Norfolk Hospice Tapping House and the Ferry Project.
Next year's festival has already been booked for Thursday 20th to Saturday 22nd September 2018.