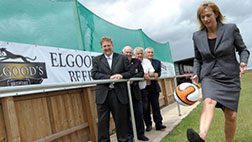 Representatives from the Wisbech-based brewers visited the newly-christened Elgood's Fenland Stadium yesterday afternoon to meet the club's board. Elgood's have signed a three-year sponsorship deal with the Fenmen.
Belinda Sutton, Elgood's managing director, said: "We are delighted and proud to sponsor Wisbech Town. We like to be linked with all things Wisbech and we've supported the rugby and lawn tennis clubs for several years.
"We will definitely be here to watch a few games next season. We would love the players to enjoy an ale or two – but that's not a compulsory part of the deal!"
Specsavers will continue as Wisbech Town's kit sponsor, while Thurlow Nunn, Spicer McColl and Fenland Fire have also joined as sponsors.
Club chairman Barry Carter said: "It's nice to have a local business sponsor the club and it gives a great interest to everybody here. The club is really progressing on and off the pitch."
Vice-president John Petch said: "We are very pleased with the way sponsorship has gone pre-season and we are delighted that Elgood's have agreed to be our main sponsor."
Elgood's is one of the oldest family-owned businesses in the country – its North Brink Brewery was established in 1795.