Friday 13th proved a lucky day for Carolyn Godfrey of Tydd St Giles when she was presented with a cash prize of £100 by Belinda Sutton, MD of Wisbech Brewery, Elgood & Sons.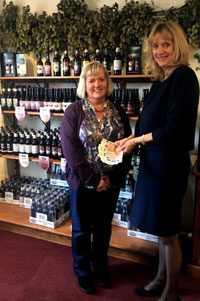 Mrs Godfrey had taken part in a ballot of visitors at the recent Beer Festival, which took place at the Brewery in September.  Voters were asked to vote for their top 10 beers at the Festival and all the ballot papers were entered into a prize draw.
The results of the ballot will be used by the Brewery team to come up with ideas for new recipes to add to Elgood's portfolio of award-winning beers.
The presentation took place in the Brewery Shop at the North Brink premises, a new facility that has been open since May this year to extend Elgood's retail presence in the town.  The Brewery Shop is open 9-5 Monday to Friday all year round, the Visitor Centre Shop is open from May to September and there is an on-line shop offering home delivery.