Forthcomingevents



2019 events at the brewery coming soon. Please check back for details.

Our gardens and visitors centre are now closed until the Spring of 2019. Please check back soon for events and opening times for 2019.



Recentevents
ELGOOD'S THREE-DAY CHRISTMAS EVENT Wisbech Brewers Elgood & Sons Ltd are looking forward to welcoming beer lovers and shoppers over the course of three days of special events this year: FRIDAY 30TH NOVEMBER – FREE TASTINGS IN THE BREWERY SHOP From 9 am to 5 pm, the Brewery Shop on North Brink will be offering free tastings of

Hundreds of visitors enjoyed a bright, sunny day in the Elgood's Brewery Gardens on Sunday 2nd September. The Craft & Plant Show was a great success, as of course were our award winnings ales. We are already looking forward to next year! Beautiful weather greeted visitors at the 2018 Summer Plant & Craft show

Despite the overcast and slightly cool weather, nearly 400 people gathered in Elgood's Brewery Gardens to enjoy an afternoon of jazz organised by Dave & Sheila Dyer. Music was provided by the Peter Rudeforth Jazz Band who played a wonderful selection of classic numbers with some stunning solos from the band members.  In between sets

Sunday 5th August 2018 in Aid of National Garden Scheme. 11:30am until 4:30pm
ourNews
ELGOOD'S COOLSHIP MANGO SOUR WINS PRESTIGIOUS AWARD
Wisbech brewers Elgood & Sons were very proud to receive a Silver Medal for the latest addition to their range of sour beers, Coolship Mango Sour.  Judged by brewers and industry experts and organised by the Society of Independent Brewers (SIBA) at their flagship BeerX event in Liverpool, the awards run across a huge range of beer style categories in cask, craft keg, bottle and can. Elgood's Coolship Mango Sour was awarded Silver in the Speciality Light Beers category.
Elgood's Head Brewer, Alan Pateman, who was a judge at the event, said, "We are very pleased indeed to receive yet another award for one of our Sour Beers.  As one of the first UK breweries to develop a Belgian-style, naturally fermented beer, we have been delighted with the continued success of these products in winning prestigious awards.  This is, of course, reflected in the popularity of the beers in the market place."
Coolship Mango Sour takes its place alongside the rest of the Elgood's range of award-winning ales and speciality beers.
Presentation at Elgood's Brewery to the Norfolk Hospice Tapping House
Wisbech Brewers, Elgood & Sons, were delighted to hand over a cheque for £1,500 to Rebekah Mills of Tapping House at the Brewery's Christmas Open Weekend.
A raffle and other competitions held over the course of the weekend realised £200.  Prizes included a homemade Christmas Cake and Christmas Pudding, donated by Elgood's employee Sheila Wright, who first came up with the idea of holding a raffle in support of the Hospice.  Other prizes included a ham donated by Plater's Family Butchers of Wisbech, a hamper donated by the Brewery and several items donated by the various Craft Stall holders.
The proceeds from the weekend were added to those raised at various other events throughout the year, including the annual Jazz in the Garden afternoon organised by Dave & Sheila Dyer, which raised £450; donations and booking fees from the Craft Fairs in May and September, £490; Elgood's Beer Festival, £221; plus several other individual donations.
Rebekah Mills of the Norfolk Hospice said, "We are extremely grateful to Elgood's for their continued support over the years.  It was a pleasure to be invited to the annual Open Weekend once again and to receive a cheque for £1,500 for their fundraising efforts this year.  The Weekend, like all of the events organised by Elgood's, is a wonderful event and it was lovely to see so many people there."
Lucky Prize Winner
Friday 13th proved a lucky day for Carolyn Godfrey of Tydd St Giles when she was presented with a cash prize of £100 by Belinda Sutton, MD of Wisbech Brewery, Elgood & Sons.
Mrs Godfrey had taken part in a ballot of visitors at the recent Beer Festival, which took place at the Brewery in September.  Voters were asked to vote for their top 10 beers at the Festival and all the ballot papers were entered into a prize draw.
The results of the ballot will be used by the Brewery team to come up with ideas for new recipes to add to Elgood's portfolio of award-winning beers.
The presentation took place in the Brewery Shop at the North Brink premises, a new facility that has been open since May this year to extend Elgood's retail presence in the town.  The Brewery Shop is open 9-5 Monday to Friday all year round, the Visitor Centre Shop is open from May to September and there is an on-line shop offering home delivery.
Elgood's Beer Festival a Great Success
We are delighted to report a very successful Beer Festival this year.  More than 900 people attended over the three days of the festival.  Over 150 beers were available, offering everything from refreshing low-alcohol ales to stunning high ABV porters and stouts.
Entertainment was provided by old favourites Dr Busker and Bewildered as well as up and coming local band Animal Bar.  Local folk band The Rusty Relics played for the Saturday afternoon session and were very well received.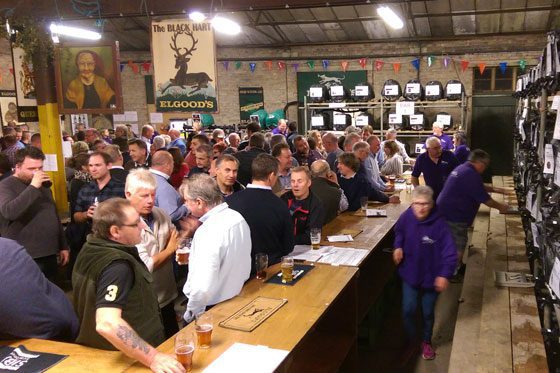 The festival, which is in its 7th year, is organised on a not-for-profit basis, using the beers entered for the SIBA East annual beer competition.  All money raised is donated to local charities.  This year £2,000 will be shared between Ravenswood Pet Rescue, Rare Brain Tumour Research, Norfolk Hospice Tapping House and the Ferry Project.
Next year's festival has already been booked for Thursday 20th to Saturday 22nd September 2018.
Elgood's Scoops more Awards
We are over the moon with our awards at last week's SIBA East competition! Bronze for our plumptious Plum Porter; Gold for our wonderful bottled Warrior and Silver overall for Warrior in the Small Pack Beer category.
The Beer Festival which followed the competition was very successful, with more than 900 visitors over the three days.  It was a hectic few days but amazing fun.
We are already looking forward to next year's festival, which is planned to take place from Thursday 20th to Saturday 22nd September 2018.  Watch this space!